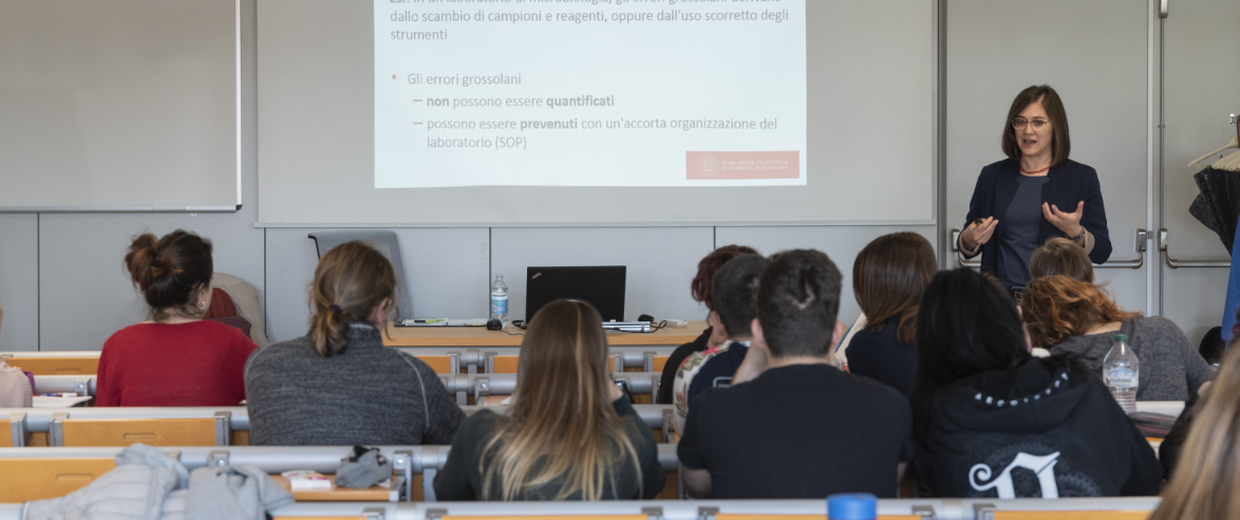 Teaching and education: contexts and practises in formal education
In this area, studies and research focus on past, current and potential forms of school and pre-school education. From the study of the history of education and pedagogical theories and active teaching, research on early childhood education, the study of teaching through information and communication technologies, the study of teacher training, research into the teaching of Italian as L2, the study of storytelling practices and children's literature, to media education.
People
keywords:
Education technology, Media education, Faculty Development, Digital Storytelling
keywords:
Systematic musicology, Musical routines with under-four children, Music Education with early childhood, Mixed methods
in music educaton research, Music teacher education, Learning Music and artificial intelligence, Social representations of music, Musical style and intertextuality, The MIROR platform, Reflexive interaction paradigm, Intertextuality, The Mandolin in Naples in the XVIII Century
Read more
keywords:
Literature, storitelling, fiction, care, caregiver, Complexity, Children's literature and literature, Theater, movie,
storytelling, illustration, Representation of deprived childhood, Children and the dark side, Author's riddle and children's literature, Text, interpretation and hermeneutics, Circularity and imaginary, hard issues and control
Read more
keywords:
Assessment, Vocational Education and Training, Civic and citizenship education, Transversal competences, Soft skills
keywords:
English language teaching, assessment, inclusivity, SLD,language and society
keywords:
youth transition, youth participation, educational trajectory, leiterature and intercultural pedagogic, informal
learning, motivation and participatio, motivation, informal learning, youth transition
Read more
keywords:
patrimonio storico-educativo, Public History of education, Archivi scolastici, Biografie magistrali
keywords:
Education and technology, Didactic design, teaching and learning strategies, Inclusion and technology, Open Educational
Resources
Read more
keywords:
Inserimento sociale detenuti
keywords:
Literary 'genres' for children, Pedagogy and Storytelling, Myth and childhood, History of Children's Science
Storytelling, Connections between History of Education and Children's Literature
Read more
keywords:
Bilingualism, language acquisition, plurilingual education
keywords:
Inclusive education -, ICF - ICF-CY, Disability and trauma, School - Family, Vulnerability - Resilience, School -
Family and parent training, Social inclusion, ICF - ICF-CY, Inclusive education, Ecological Social and Human Approach on Dusability, Human Rights, Infancy and early childhood education
Read more
keywords:
Learning assessment, Program evaluation, Research methodology, Non-technical skills, Professional training, Mixed
method research
Read more
keywords:
elearning, Higher education, Artificial Intelligence, Inclusion
keywords:
games studies; videogames and education; didactic innovation ICT and inclusion childhood app media education childhood
and ICT; nclusive education citizenship education; digital citizenship
Read more
keywords:
Vocational Educational Training, Teaching and trainers, Learning by doing, Life Long Learning, Innovation, Teaching and
education, Design, planning and teaching methodologies, Transversal competences of teachers
Read more
keywords:
didactic innovation, ICT and inclusion, childhood app, media education, childhood and ICT, inclusive education,
citizenship education, teacher professionalism, alternative civilian service, Videoanalysis and teaching practices observation
Read more
keywords:
Disability and migration, specialized teacher, inclusion, coeducation, communicative musicality, video-microanalysis.
keywords:
work-based learning experience, museum education, youth engagement, art and heritage education, digital environments
keywords:
in-service training, childhood, outdoor education, education in nature, professionalism, phenomenology, early childhood
education and care services, education for sustainability
Read more
keywords:
Digital Citizenship Education, educational technologies, ICT and classroom social climate, Videogame
keywords:
Formative Educational Evaluation, empirical research on teachers and teaching, Teacher training and teachers' beliefs,
Videoanalysis and teaching practices observation, Curriculum Planning and Monitoring, Quality Assurance e Lifelonf learning, Tools of assessment and evaluation of educational praxis, Assessment and evaluation in the school
Read more